Selecting this will bring up the following page



A Patron can be searched for using any of the fields available. A partial entry can be searched on as well by using the % as variable character in any of the fields. For example searching for the first part of a Last Name would be "Cald%" to find all Patrons that Last Name begins with "Cald"
Once found the result of a Patron Search could look similar to this: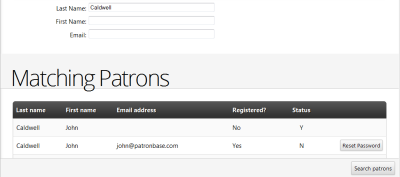 In this example two Patrons have been found with the Last Name matching the search criteria
They are also identified as having registered with the Web module online. If they have an email address associated with them then that password can be reset. This means a new random password is automatically generated and sent to their email address.


On entering a sale ID and using the [Lookup Sale] button an onscreen version of the receipt will be displayed along with the opportunity to add a different email address than the original one to be re-sent the receipt to: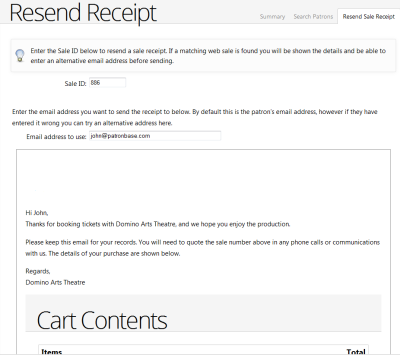 Re-sent email confirmation