It is possible to integrate a MailChimp account with PatronBase database so that group member email addresses, such as 'e-newsletter' can be sent directly from the Web Control Panel to a MailChimp campaign. Create a MailChimp account for your organisation, and link this MailChimp account with your PatronBase system. This is done by use of an 'API key', which is generated from within MailChimp.
To log into your MailChimp account and obtain an API key, click the link MailChimp > Account > API Keys and Info on the MailChimp Control Panelpage's Settings tab, under API Key. This will take you to the MailChimp website, where you need to create an account, or if you already have one for your organisation, log in using your MailChimp credentials. Once logged into the MailChimp website, look in the Account tab, under Extras > API keys to find an existing API key. If, under Your API keys, it says "You don't have any active API keys", you will need to click the Create A Key button.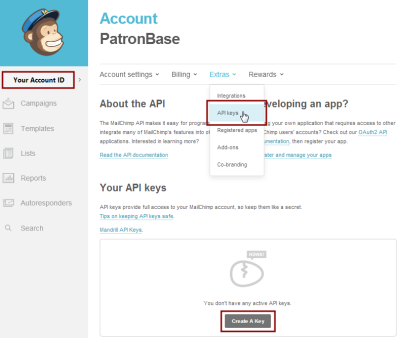 The API key you generate will look similar to this:
78062c3a2b49fde85022426487c9dca8-us1
The next step is to enter this API key into your Web Control Panel MailChimp Settings. Copy and paste the API key into the API Key field.

In MailChimp, you will need to create one or more mailing lists, and here in the Web Control Panel you select the mailing list that will be the target list when you export addresses from PatronBase.

Lists
You can send a list to MailChimp by clicking on the Send to MailChimp button next to the list you want transferred. A progress indicator will keep you informed of the progress to completion, which is particularly useful for longer mailing lists.