Using the Report Outputs for Communications
Building a query and generating results is of little value unless you can easily do something with the results. PatronBase Marketing lets you produce reports in the form of Mailing Labels for several popular label sheets. You can generate a Contact List that will provide a list of phone numbers for a tele-marketing campaign. Mail Merge assists in producing letters customised for each patron. You can send an e-Mail Message to those patrons who have provided their email addresses. SMS Message allows sending an SMS txt message to patrons' cellphones as simply as sending a report to a printer. When you execute the query, an SMS Editor will open allowing you to compose the message to the patrons identified by the query.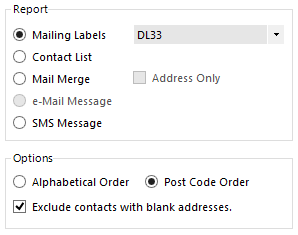 Messages can be sent to patrons by SMS over the cellular network using iTagg integration. This feature does require a subscription to the iTagg service and custom configuration, so speak to your PatronBase agent if you are interested.
Address to the attention of... will be especially useful when addressing organisations. Choose the appropriate Relationship from the list of options to identify who the letter will be addressed to.

The Privacy box encourages respect for the specified wishes of a patron regarding their preferred form of contact. There may be times when it is necessary to ignore these privacy settings. For instance, if a performance of a show has been cancelled at short notice because a key performer has taken ill, it may be necessary to email and/or phone every known patron to inform them of the cancellation or postponement of the show and to communicate their options. Patrons would appreciate this considerate contact, even if they had specifically stated a wish for posted communications. Therefore, the Privacy settings allows for queries to override the privacy settings chosen by patrons, but this should be done with great discretion.
Customise the Channels and Privacy Levels in Administration See Setting Up Patrons for more information.