Getting Started
Once signed in to Members, note that the window titlebar displays which Member Groups the logged-in user can manage. In the example below the operator can access Friends and Supporter membership groups.

The first steps are to set up Member Categories and any Volunteer Roles members may be fulfilling. (The membership subscription product should already have been created. See Getting Ready.)
Maintenance > Member Categories (or alternatively, Administration > Setup > Members > Member Categories) can be used to define different levels or types of membership. Examples of Member Categories could be Single, Double, Family, Corporate, reflecting different numbers of patrons involved in the membership subscription, or Gold, Silver, Bronze etc, with different benefits associated with each level of subscription.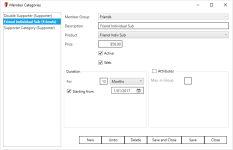 Click the New button at the bottom of the Member Categories window to add a new Member Category. Select the correct Member Group the Member Category is part of, provide a short Description identifying the category, and select the Product that has already been created from the list of available products. Specify the Price for the membership, and use the checkboxes to indicate if the new category should be Active immediately, and if it should be available on the Web.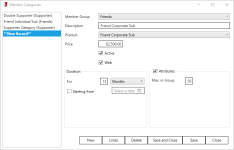 The Duration fields are used to control the membership period. Specify the number of Days, Weeks, Months, or Years the membership covers, or indicate that the membership is a Life membership. The membership can be for a period that starts when the subscription is purchased, or specify a Starting From date when the same period is used for all of the members of the category, for instance 01/01/2016 might be selected for a Supporters (2016) subscription.
If the membership is for multiple patrons, tick the Attributes box and specify the Max. in Group number. This is where you limit Family memberships to five patrons; the example above shows a corporate group that can have at most 50 patrons involved.
Specify Volunteer Roles by selecting Maintenance > Volunteer Roles or Administration > Setup > Members > Volunteer Roles. These are activities that members may be involved in or assigned as part of their membership involvement.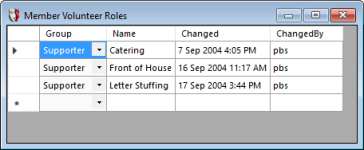 To add a new role, select one of the fields to the right of the * at the start of the blank row at the bottom of the table. Select a Group from the list of Member Groups listed, and specify a decriptive Name for the role. Select Save in the toolbar to preserve the new role.